Programming Language Course (C, Java, Python, JavaScript)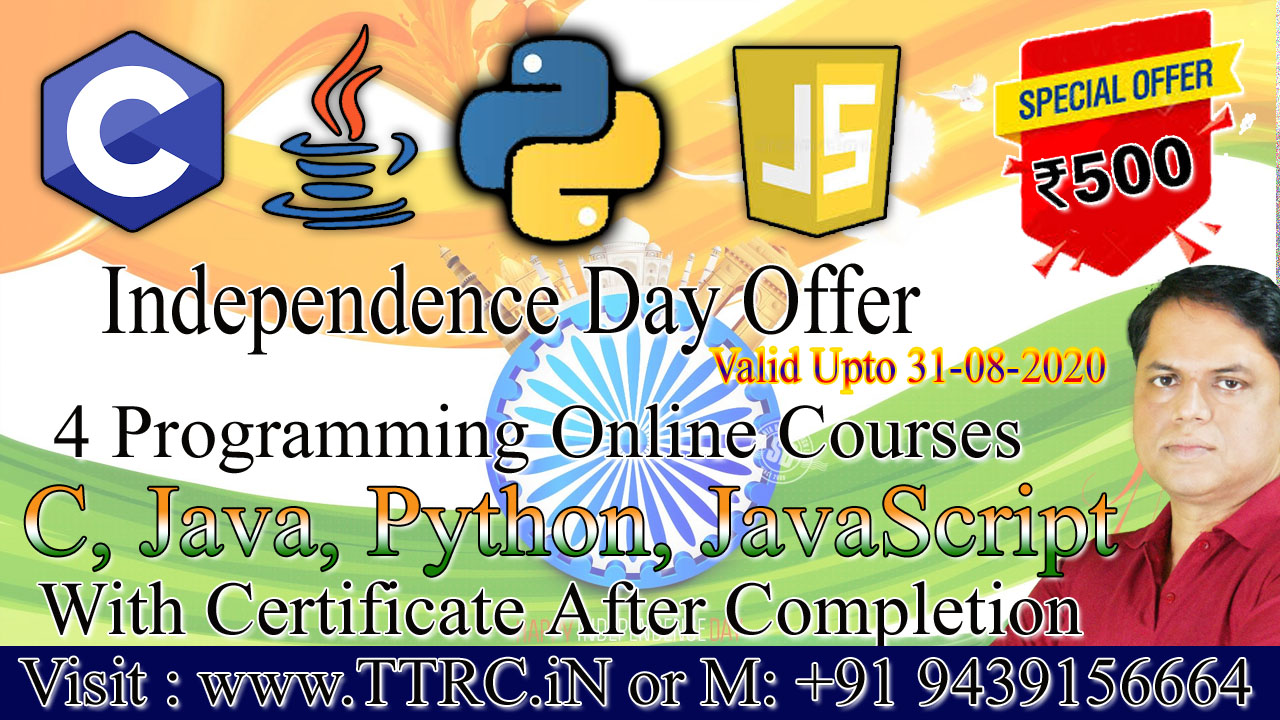 Who is this course for ?
This course is for complete beginners who want to learn programming from scratch.
Someone who cares about Notes as well as want to write cool programs
Anyone with a passion to learn something new in coding
This course is probably not appropriate for you if you're an expert programmer and looking for advanced Python concepts
What you will learn in this course
1. Python Programming From Scratch With Examples
Python Introduction and run first program
Basic Terminology in Python
User defined functions in Python
Comments and DocStrings in Python
Numeric and Bool data type in Python
Dictionary Data Type in Python
set data type in Python
string data type in Python
List data type in Python
Tuple data type in Python
Arithmetic operators in Python
Comparison Operators in Python
Assignment Operators in Python
Bit Wise Operators in Python
Logical Operators in Python
Membership and Identity Operators in Python
Input Function in Python
If statement in Python
File Handling in Python
For Loop in Python
While Loop in Python
Recursive Function in Python
Lambda Function in Python
Exception Handling in Python
2. JavaScript For Beginners
Basic Concepts

Introduction to JavaScript
Write First Program in JavaScript
External JavaScript File
Comments in JavaScript
Semicolons in JavaScript

JavaScript Overview

Variables in JavaScript
Variable Naming Rules in JavaScript
Data Types in JavaScript
Arithmetic Operators
Increment and Decrement Operators in JavaScript
Assignment and Shorthand Operators in JavaScript
Comparison Operators in JavaScript
Logical Operators in JavaScript
Ternary Operators in JavaScript

JavaScript Conditions and Loops

IF statement in JavaScript
If…Else Statement in JavaScript
If…Else If… Else Statement in JavaScript
Switch Statement in JavaScript
For Loop in JavaScript
While Loop in JavaScript
Popup Boxes in JavaScript
Number Guessing Game Using Do…While Loop in JavaScript
Break and Continue Statement in JavaScript

JavaScript Functions

Introduction to Functions in JavaScript
Parameters and Arguments of Functions in JavaScript
Return Statement in JavaScript

JavaScript Objects

Introduction to Objects in JavaScript
Properties of Objects in JavaScript
Object Constructor Function in JavaScript
Object Methods in JavaScript
Array Introduction and Declaration in JavaScript
Faster and Simpler way of Array Creation in JavaScript
Array Properties in JavaScript
Array toString method in JavaScript
Array join method in JavaScript
Array shift method in JavaScript
Array pop method in JavaScript
Array push method in JavaScript
Array unshift method in JavaScript
Array splice method in JavaScript
Array concat method in JavaScript
Array slice method in JavaScript

JavaScript DOM and Event Handling

What is DOM ?
Selecting DOM elements by Id in JavaScript
Selecting DOM elements by class name in JavaScript
Selecting DOM elements by tag name in JavaScript
DOM node types and node properties and methods
Changing attributes of DOM elements
Style Object Properties of DOM Elements

Extra JavaScript Projects

Digital Clock Project in JavaScript
Password Validator Project in JavaScript
3. C Programming for Beginners
Introduction to C Programming
Install CodeBlocks and Run First C Program
C Program Structure
Tokens in C Program
Semicolons
Comments
Identifiers
Rules for an Identifier
Keywords in C
White Spaces in C
Basic Syntax Rule for C Programming
Data Types in C
primary Data Types in C
Derived Data Types in C
Variables in C
Variable Naming Rules in C
Variable Declaration and Definition
Constants
Storage Classes
Auto Storage Classes
Register Storage Classes
Static Storage Classes
Extern Storage Classes
Which Storage Class Should be Used and Where
Operators in C
Arithmetic Operators
Relational Operators
Logical Operators
Assignment Operators
Conditional Operators
Special Operators
Decision Making in C
Decision Making Using IF Statement
Points to Remember While Using IF Statement
Decision Making Using Switch Statement
Goto Statement in C
Loops in C
While Loop in C
For Loop in C
Do…While Loop in C
Nested Loop in C
Functions in C Program
Types of Functions in C Program
Function Definition and Signature
Function Declaration
Parameter Passing to a Function
Pass by Value and Pass by Reference
Arrays in C
Null Pointer in C
Pointer Arithmetic
Strings in C
Input and Output in C Using Scanf and Printf
Input and Output in C Using getchar and putchar
input and output in C using fgets and fputs
4. Java Programming for Beginners
Introduction

Difference Between Low-level and High-Level language
Difference Between POP and OOP
Difference Between Software Objects and Realworld Objects
Basic Principles of OOP
Difference Between top down approach and bottom up approach
Difference between compiler and interpreter
Basic Features of Java
Java Compiler and Interpreter
Why Java Programs are machine independent
Why we are not using different Java Compilers for Different machines
Difference Between JDK, JRE and JVM
Java Packages
Java Reserve Words
Difference Between Java Application and Appler

BlueJ IDE for Java

Why BlueJ
Features of BlueJ
Where to download BlueJ for free
Write First Java Program

Programs Using ternary Operator

What is Operator
Operator Precedence
Types of Operators in Mathematical Operations
Program1 Based on ternary operator
Program2 Based on ternary operator
Program3 based on ternary Operator
Program4 Nested Ternary Operator

Programs to demonstrate Unary and Binary Operators

Postfix unary increment operator
Prefix unary increment operator
Shorthand Operations
Understand Operators with 5 Examples

Math Library Methods

Use of math.sqrt method
Find smallest number from 3 user input numbers
use of math.cbrt method
use of math.pow method

If…else

ifelse1
ifelse2
ifelse3
ifelse4
ifelse5

Switch

switch1
switch2
switch3
switch4
switch5

For
While

while1
while2
while3
while4
while5

Do…While
Nested For

nested for 1
nested for 2
nested for 3
nested for 4
nested for 5
nested for 6
nested for 7
nested for 8
nested for 9
nested for 10

Java Variables

What is a variable
Variable declaration
assignment statement
types of variables definitions
understand local variables
understand instance variables with demo
understand static variables with demo
points to remember for variables

Java Data Types

Data type introduction
know boolean data type with demo
know byte data type with demo
know short data type with demo
know int data type with demo
know long data type with demo
know floating point data type with demo
know double data type with demo
do not use float or double for monetary calculations
know char data type with demo

Java Methods

Java Methods Introduction with demo
Java Methods parameters with demo
Know Method return type with demo
Types of Methods Explained with demo
User input values passed as arguments to method
method overloading
use of variable arguments in java

Java Array

Java Array Introduction
Java Array Creation
Types of Java Arrays
Processing Arrays
Finding Smallest Number from an array
Sorting Array in java
Sum of Array elements in Java
Passing array as arguments in Java

Constructors in Java
Demo Videos of Python Programming
Demo Videos of JavaScript Programming
Demo Videos of C Programming
Demo Videos of Java Programming
How to Purchase a Course From TTRC.iN
How to download and Install TTRC Player and How to download content and how to activate player, all these steps will be guided personally one-to-one.
So What are you waiting for!
Enroll today and start learning.
Keep Learning, Keep Growing.
With Best Wishes,
Subrat Sir.
Course Features
Lectures

1

Quizzes

1

Duration

23 hours

Skill level

Beginner level

Language

English

Students

2

Certificate

Yes

Assessments

Self
You May Like